OLED illuminant of automotive taillight of Hong Qi H9 (Mass production project)
Partner company: Changzhou Xingyu Automotive Lighting Systems Co., Ltd.
Yeolight Technology began to cooperate with Xingyu since 2019 and provide automotive taillight OLED illuminant for Hong Qi H9 automobile exclusively. On January 8, 2020, Hong Qi H9 was officially unveiled in The Great Hall of the People. Hong Qi H9 adopts the new design concept of the new Hong Qi family and reflects the traditional classic Chinese aesthetics. The taillight shape adopts the OLED taillight design and it is the first production car in China to adopt OLED taillights.
Hong Qi H9 taillights feature a total of 8 OLED screens, with the left and right lights arranged in a mirror image, and each side contains 4 OLED screens arranged in parallel. Each OLED screen contains 5 light-emitting zones which can be individually illuminated. By controlling each zone independently, different graphic illumination patterns and illumination effects, such as flowing water, breathing, rhythm and fading can be realized. This enriches the on-board design language.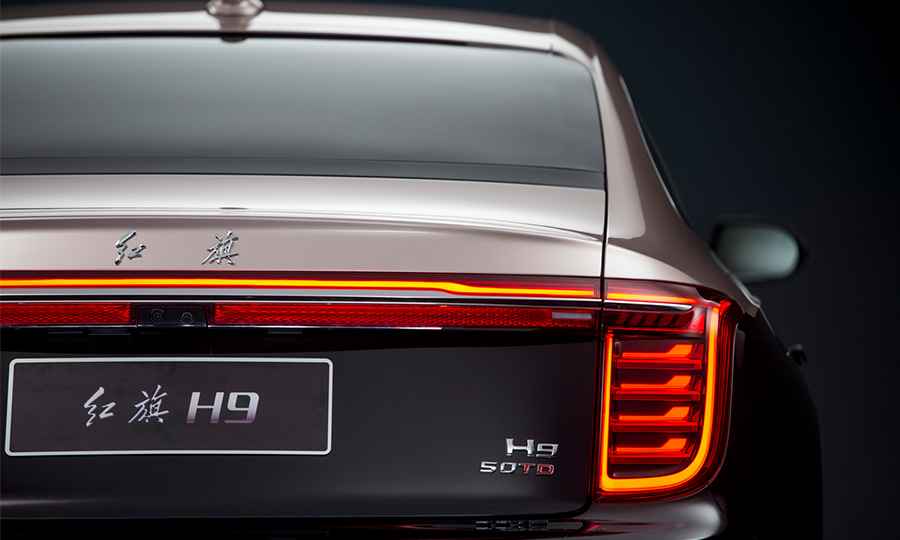 OLED illuminant of automotive taillight of Xiaopeng G1 Beta Version (Small-scale mass production project)
Partner company: Hasco Vision Technology Shanghai Co., Ltd.
In 2017, through years of technical accumulation, Yeolight Technology broke through key technical bottleneck and developed the first OLED automotive taillight product in China, which was successfully installed on Xiaopeng automobile.
This OLED taillight contains 28 shaped OLED screens, each divided into 2 light-emitting zones, with 7 OLED screens on top and bottom of each light, creating a strong 3D effect through alternating stacking. In addition, through the driving control of an additional circuit, the light is illuminated in time sequence, which gives the whole light a sense of flow and highlights the charm of OLED lights.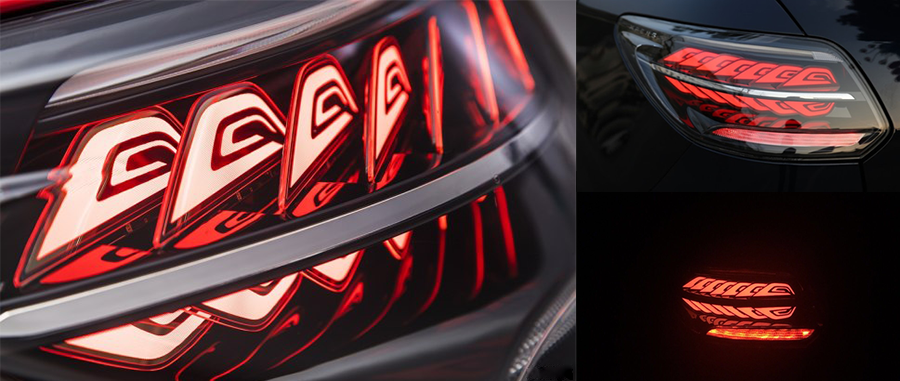 Fully functional OLED digital taillights
Partner company: ST Microelectronics, Leapmotor.
In November 2021, Yeolight Technology and ST Microelectronics collaborated to launch the new OLED digital taillights, which were unveiled at the 4th CIIE (China International
Import Expo). The retrofitted taillights based on the Leapmotor C11 were the first fully functional and digitalized automotive OLED taillights, with a total of 1,434 differently shaped pixel points. This allows for dynamic and beautiful interaction and decorative functions, customized welcome and farewell functions, and crystal-clear driving contour functions. And this fully demonstrated the possibility of realizing the indication by OLED for braking, steering and reversing functions.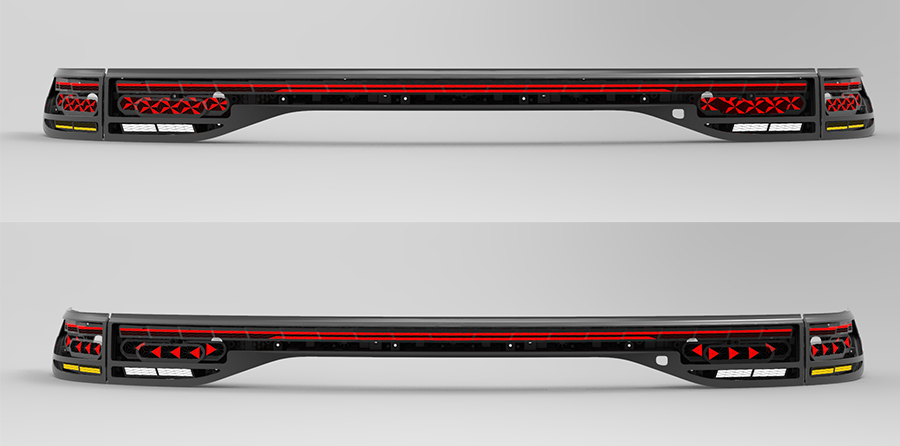 OLED Rear Lights
YFPO
In the recent 2017 Shanghai Auto Show, YFPO presented a unique concept car, YF17, which was packed with state-of-the-art transparent OLED rear lights provided by Yeolight. The light consists of 36 pieces of OLED red panels assembled in an overlay fashion. When switching on, it presents dark red light with 3D visual effects, mimicking water flowing, while it is transparent when switching off. The light reaches a good balance between lightweight design and function versatility, achieving the efficient communication between human and vehicle, or between vehicles.
YFPO has consistently advocated green sustainable innovation design. The successful cooperation with Yeolight's OLED lighting technology is expected to lead the future trend of China's automotive lighting industry.
OLED Rear Lights
Great Wall Motor Co., Ltd
In 2015, the OLED (organic light-emitting diode) rear lights developed by Yeolight Technology Co., Ltd. was successfully displayed in the 5th TECH Show of Great Wall Motor, where opaque and transparent lights were mainly presented.
The opaque light consists of two screen bodies, which can be lighted up in dark red separately without affecting each other. Furthermore, 3D visual effect is achieved through novel optical design, bringing brilliant rear vision. The transparent light contains 16 OLED panels with extraordinary lighting effects. When switching on, it presents dark red light with 3D visual effects, mimicking water flowing, while it is transparent when switching off. By modifying the metallic cathode and optimizing the circuit design, Yeolight OLED panels maintain the luminousness of 30% or even more, addressing the challenge of luminance uniformity for large panels.
This successful display of OLED rear lights was witnessed as the first use of the OLED technology on the vehicle lights in China, which also became an international appearance following BMW and Audi appeared in the vehicle lighting. This indicates that the Yeolight has a strong independent R&D capacity and technology innovation capability on the development of vehicle lights.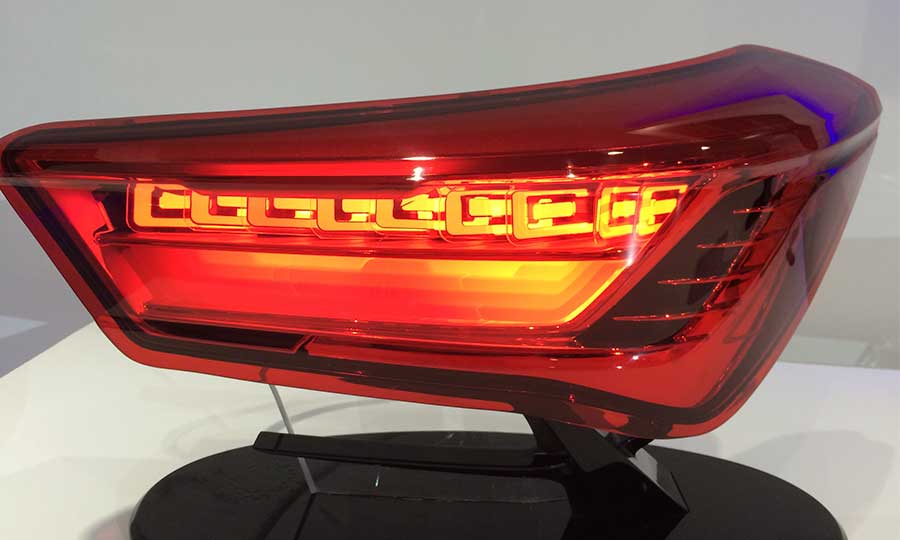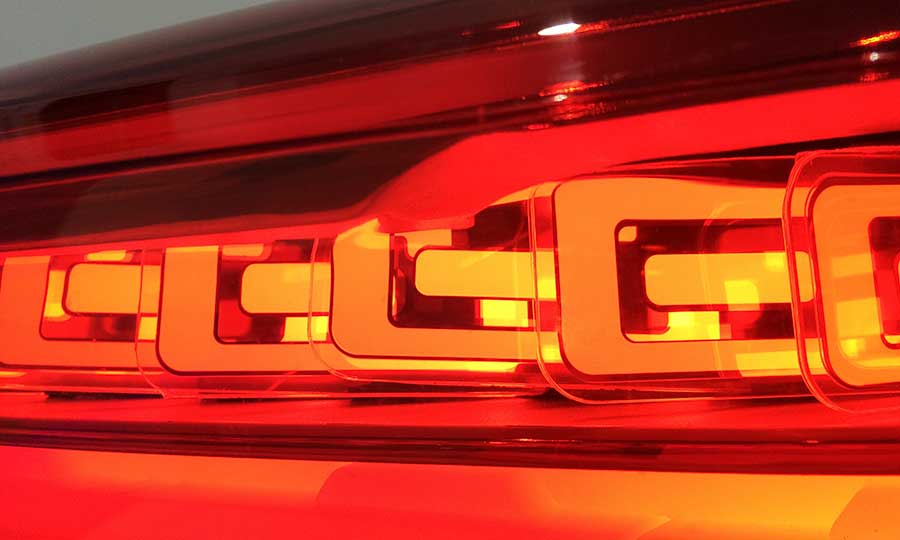 ▲ Opaque OLED Rear Lights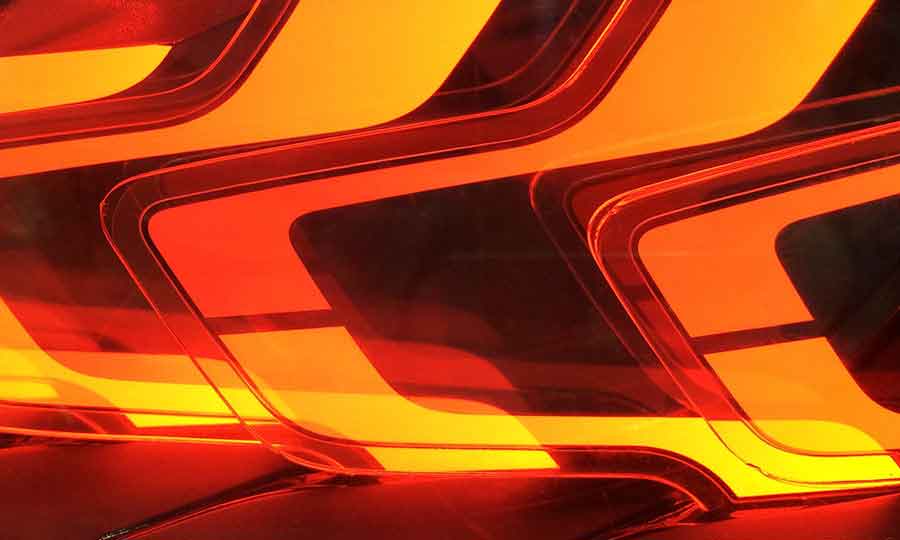 ▲ Transparent OLED Rear Lights